As of March 1, 2022:
Our primary sales outlet is the Manassas Farmer's Market on Saturdays. We have been on a break from the market since the start of 2022, but plan to return to the market beginning March 12. The Saturday market runs from 9am – 1pm and is held in the commuter parking lot in downtown Manassas across the street from Baldwin Elementary. (There is also a Thursday market from April-ish through November-ish that we don't attend.) Feel free to swing by and see what we have! As an additional option, you're welcome to contact us to pre-order any item in advance and then pickup at the market.
The following shows what we offer (subject to availability), associated pricing, and whether the typical use after purchase would be to eat OR to plant (or either):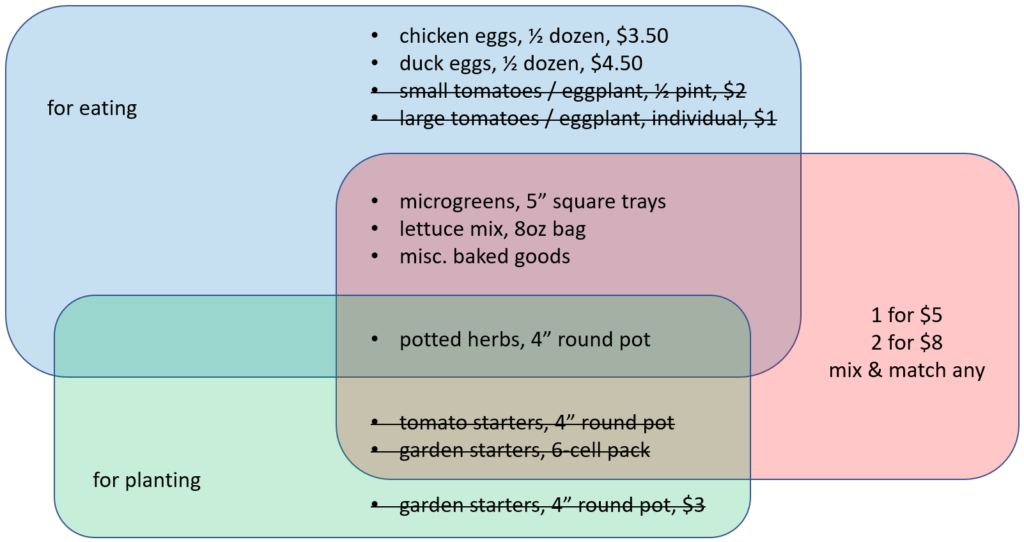 Notice that the starter plants aren't currently available, as we typically sell those in the spring.
Microgreens are sold live in soil in a 5″ square tray. We can cut and bag trays on request. Varieties include:
amaranth
arugula
basil
basic salad mix
broccoli
cabbage
cilantro
mustard
onion
pea
radish (purple)
spicy salad mix
sunflower
Potted herbs are sold live in soil in 4″ round pots. Varieties include:
basil, Genovese
basil, purple
basil, Thai
catnip
chives
cilantro
dill
marjoram
oregano
parsley
rosemary
thyme
We plan on growing a good batch of tomatoes this year (cherries and larger slicers) and will likely begin harvesting those for market in July. If we're lucky, maybe June.
To place an order, please email us at farmer@pennmarketfarm.com or call 703-392-4810, and provide the following information:
first & last name
email address and/or phone number
items desired and associated quantities
planned pickup date
planned payment method & date
For payment methods, we accept cash, check, credit, or Venmo (search "pennmarketfarm").
Once we receive your order, we will get back to you to confirm the reservation (indicating whether we have sufficient quantities to fulfill the order, as well as the price breakdown). And at that point, you'd be welcome to pay in advance of pickup via Venmo, or just pay via any of the above methods at pickup.
You are certainly welcome to contact us if you have any questions about any of this. Thanks!