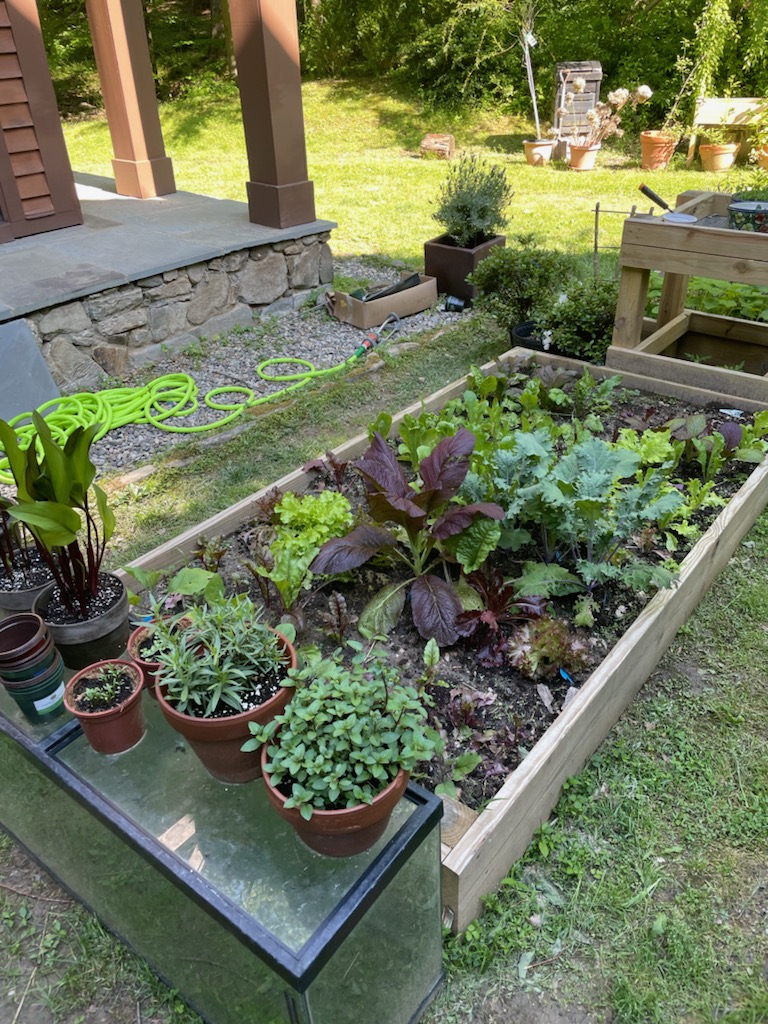 We're in full main season swing at this point. Everything is growing and needs to be harvested yesterday. Finding a spare moment can be challenging. But seeing folks each week at the market is a nice reward.
Some of the things going on these days:
Our farm refrigerator (a chest freezer cycled on/off to keep it at fridge temperatures) died late winter / early spring. We've been freezing milk jugs filled with water in our main house freezer and then cycling those into the powered-off chest freezer… such that it's effectively a large cooler. This has gotten us through, but the time has come to bite the bullet. We clicked "buy" on a brand new chest freezer (larger one), which will hopefully arrive this coming weekend. You might ask why not just buy a refrigerator? Well a chest-style unit is what we desire, for one, and I can't recall finding a refrigerator in that style. There are fridge-only upright units, but if memory serves, they might be more expensive than these chest freezers. I've given serious thought to building a large refrigerator, but lumber prices are quite high these days and I would also prefer to spend time doing other things. But building a larger fridge is probably on the todo list another year or two from now.
After populating our hoop house with tomatoes, cucumbers, and eggplant, we suffered substantial losses (mostly with tomatoes). We believe there were a number of factors at play… transplant shock, wind rubbing stems against weed block fabric holes, overheating due to plant laying on black weed block fabric, inadequate compost. We've backfilled some of the losses at this point with other starters that we had originally intended to sell at the market. We will likely fill the remaining holes in the next week or two with additional plants (either more tomatoes or some peppers that we started inside). So a bit of a rough start in the hoop house, but we're reacting and trying to salvage our summer crop effort. It's looking like we'll pull through with decent crops… though perhaps a little later producing than otherwise.
We have lettuce coming out of our ears these days. Our plan for this season was to sow (indoors) a batch of lettuce / salad mix every two weeks, and then plant into the garden at plantable maturity. Well, all of the batches we've planted to this point are producing lettuce in decent quantity. The result is that the garden as a whole is producing more lettuce than we can sell at the farmer's market. We've actually been leaving some of the lettuce out in the garden unharvested, just to save on harvest and wash/pack labor. As a contrast, last season, we had a huge slump in lettuce production during August / September, so we're keeping our fingers crossed that we have something to bring to market during those months this year.
The pea cover crop that we had going in the upper half of our garden started to flower and produce seeds (peas in pods), so we decided it was probably time to terminate it. (Probably want to terminate before it goes to seed next time.) So that got mowed down and covered with a tarp this past weekend. We'll eventually figure out what, if anything, to plant in that upper section of the garden.
All for now. Hope everyone is doing well now that school's out and the official start of summer is days away. Hope to see you at the farmer's market one of these Saturdays, but if you can't make it Saturday, we will have our self-serve farm stand setup every Sunday from 9am – 2pm at the front of our property (10218 Lonesome Rd, Nokesville). As usual, if there are any weeks where we won't be attending the Saturday market or won't have a Sunday farm stand, we'll let everyone know via this website, Facebook, email, etc. Thanks!