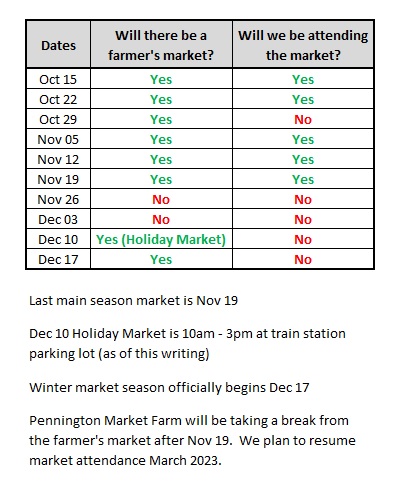 Wanted to relay our understanding of the Saturday Manassas farmer's market schedule (as of this moment). Like last year, there will be a winter season market, but we plan on taking a break for a few months and then resuming market attendance in March of 2023.
We were originally planning on doing the October 29 market just like every other week, however a Cub Scout camping trip got rescheduled to that weekend due to Hurricane Ian and the other kid has a soccer game that morning… a lot going on so we decided to skip the market that day and maybe save a bit of sanity(!)
Our tomatoes may have dodged the frost the other night, so we're hoping to get some production from them for a wee bit longer. But hard to complain about the weather this week. Hope to see you Saturday!