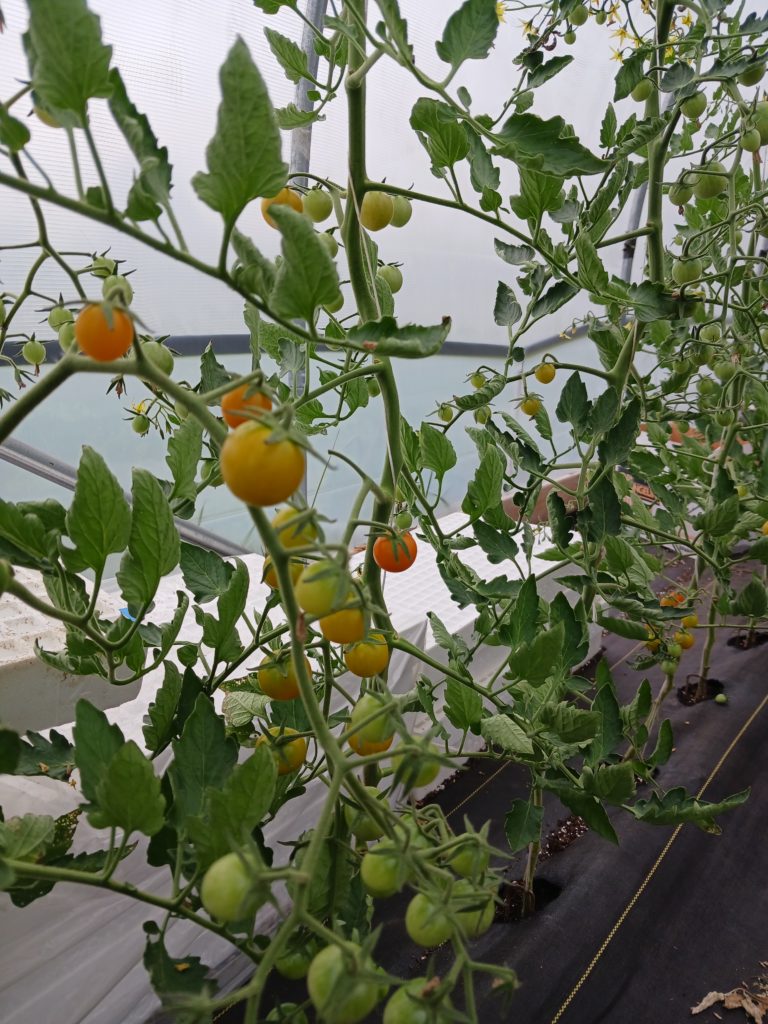 Our tomatoes are starting to color up, but we're going to need probably one more week before we can bring anything to the market. So, our apologies, but no tomatoes at the market tomorrow. 🙁 But the plants are looking good in the hoop house and we're hoping for a nice long healthy season!
Last year, the July 2 market was the first market of the year in which we brought tomatoes, so we're maybe a tad behind that this year. One big difference this time is that we put a 20% shade cloth over the tomato house back in April. Last year we got what we thought was maybe "sunburn" on a big swath of our Supersweet 100s… and we wanted to avoid that this year, hence the shade cloth experiment. But the downside, perhaps, is this slower start to our season given the slight reduction in light. We'll see if we can at least avoid that sunburn this time around.
Still cranking away each week on our hydroponic baby lettuce, microgreens, and potted herbs. We've been growing our potted herbs in a grow tent that we got this past winter, and they've taken well to that, so that's been a nice plus. Also doing our micro basil in the grow tent.
We've been slowly getting the ball rolling on our next big hoop house project. We want to move our old lettuce hoop house (hoop house #2) up next to the tomato house (hoop house #1) and level out the ground there to better accommodate deep water culture pools… for more hydro lettuce next year. It will be a fairly major effort… want to get electric and propane lines run to it, and potentially extend it from 50 feet to 100 feet long. We're hopeful that the added capacity will allow us to triple our lettuce production next year (give or take). Hidden Julles has proven to be a steadfast, reliable (patient!) customer of ours and we hope to give them more business as we go through this process of scaling up.
All for now! Hope you can swing by the market and see us tomorrow or sometime soon!