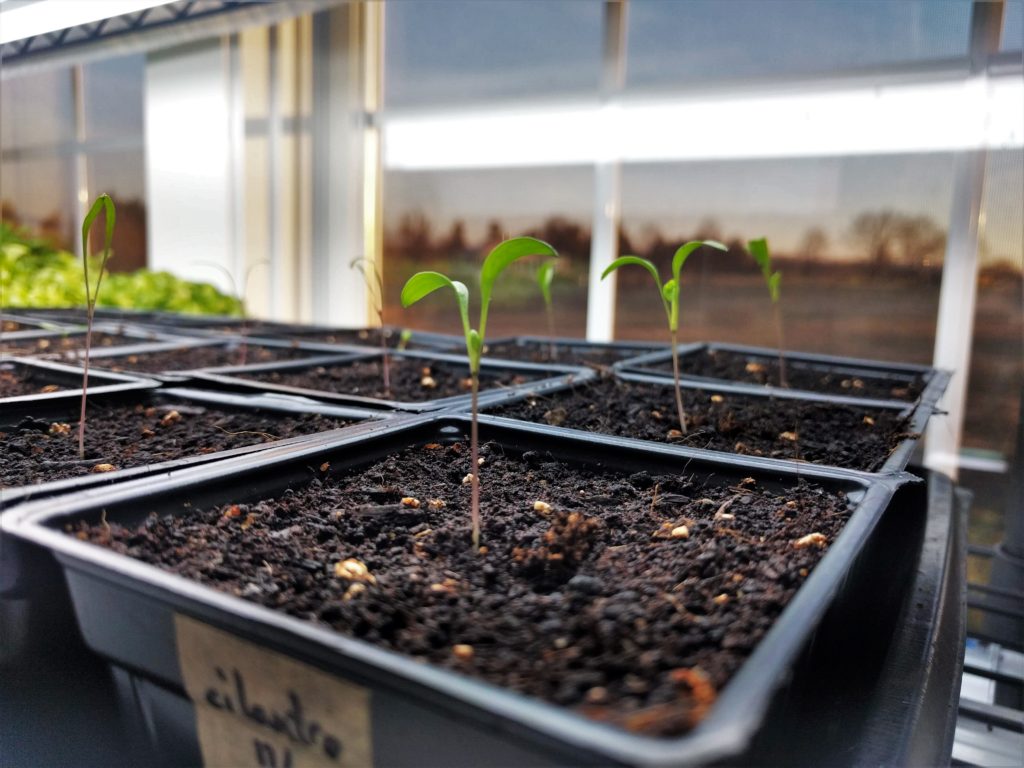 We're resuming weekly market attendance starting tomorrow. Winter market is 9am – 1pm every Saturday until March 28. (Main season market starts in April, and we plan to do that, as well.) This time of year, we don't have much to harvest from the garden, but we're full speed ahead on production of eggs and microgreens.
We've also started experimenting with herb starts… intending to sell little 3″x3″ pots of single growths of basil, dill, parsley, and cilantro. Those aren't ready for the market just yet, but maybe in 2-3 weeks(?) Like any other market experiment, we'll see how people react to them and, if sales are good, we'll grow more herbs, if not, continue experimenting.
Longer-term than the herbs, we've started going down the road toward the magical kingdom of Salad Mix. We're talking baby versions of lettuce, kale, spinach, maybe beet greens, swiss chard, mustard greens, etc. Salad mix may be a tougher item to take hold at the market, mainly because most of the other produce vendors have some form of bagged greens, bagged lettuce, etc. There's a possibility that we'd be stepping into a saturated market. But gardening in one form or another is something we'd like to continue to grow (pun intended) with our farm activities, so hopefully we can find a way to differentiate and offer some good variety and quality.
We've started transplants of various greens and will be planting the first batch into a bed in the next couple weeks. Following Eliot Coleman's winter farming strategy of insulating veggies with two layers of protection (outer poly tunnel, inner mesh row cover), we're hoping that we can at least keep the transplants alive in the ground in January / February… and hopefully, fingers crossed, have something to harvest beginning late March.
Hope to see you at the market tomorrow! Sounds like the weather will be awesome, especially for this time of year.